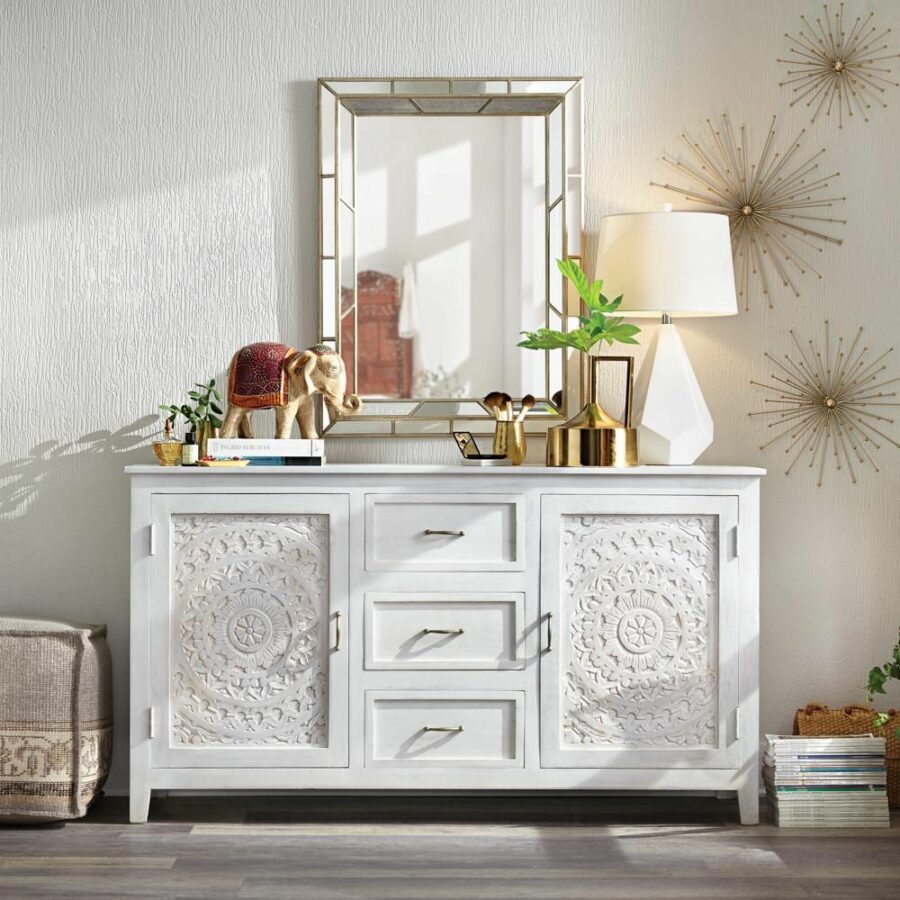 At Soni Art, we strive for the same passion, the same zeal and the same hunger for creativity. Established as a Sole Proprietorship firm in the year 2018, we "Soni Art Exports " are a leading Manufacture of a wide range of Wooden and Iron Handcrafted furniture.
At Soni Art, we strive for the same passion, the same zeal and the same hunger for creativity. Shaped by masterminds who have seen the decor industry grow from the roots of paraphernalia to a wild flourishing business it is today, Soni Art's intent can be summarised in extensive madness for diversity and tastefulness.
Meera Ramesh
26. June, 2023.
Dedicated work by Soni art team . Tnq Mr.Ramesh . for transferring our dream furniture the Pooja mandhir& the Bookshelf into reality . 👍💐Ofcourse my first thanks to my daughter who had introduced me to this Soni art Ramesh . she ordered her home furniture last year & we were happy by the communication with Mr Ramesh, Her cot & Pooja shelf designs ,& quality came out as she had ordered . Though during transport there were some touchups needed for the King Size cot, but it was attended/ communicated by Mr.Ramesh and delivered pukka. Last year we ordered frnitures for my daughter's house . This year it is for my son's house we ordered a Pooja mandhir & a book shelf . No doubt both came out as expected & we were very much happy to see our furniture delivered with the same designs & quality as ordered.My heartfelt thanks to Soni art Ramesh for his attention & patience throughout this process on specifications, designs, dimensions, carvings, polishing colours. He had coordinated well & fulfilled our desires of the same.😊 I was worrying on packing for the transport & delivery of these two heavy sheesham wooden furnitures to my place for distance and the second floor . But the packing was done pukka & our furnitures were delivered as expected..👍🙏 Thanks a lot for making our dream furniture into reality with an exceptional WORK & EFFORTS .Anyone can wait with patience for getting the ordered furnitures for the tremendous output and ofcourse the dedicated work of Ramesh with SONI ART TEAM as agreed/ designed . All the best .💐(*Can make few small usable good daily wooden things too with our furniture orders)With Wishes , Meeraramesh.
Nisha Gulati
25. June, 2023.
Got the most beautiful and sturdy furniture made by Soni art. I could get great customisation and service. Mr Ramesh was quite responsive and offered a lot of support over phone and whatsapp. I am quite satisfied with their services!
Saranya Mohankumar
23. June, 2023.
I found Soni art through Indiamart, sent an enquiry to Mr Ramesh (owner of Soni art). He responded immediately and in no time I placed an order with Soni art. I was out of town and hence asked for delivery at my convenience and within a week the courier was received via expressbees. The packaging was intact, the goods were in good condition. Impressed with the quality and the coordination of Mr Ramesh. I m in Chennai and was quite apprehensive of placing order online and the products had to come from jodhpur. Soni arts proved me wrong by delivering quality products in good condition. This is my first online shopping wrt furniture. Hoping to order more from soni art.
rajan chouhan
12. June, 2023.
Excellent Experience with Soni Art – Highly Recommended! We recently purchased a wooden sofa from Soni Art, and we couldn't be happier with our decision. The sofa was delivered to our home in Nagpur, and it arrived in a well-packed condition, ensuring its safety during transit.I had always desired to have a sheesham wood sofa, and while searching online, I came across Soni Art's website. I was immediately drawn to their Royal sheesham wood sofa and decided to place an order after discussing some changes in fabric color with their helpful support team. They accommodated my request without any additional charges, which was greatly appreciated.The entire buying experience with Soni Art was delightful. The sofa arrived in excellent condition, and there was minimal self-assembly required, which we easily managed. The quality of the sofa exceeded our expectations, and it has become a beautiful addition to our home.We are truly satisfied with our purchase from Soni Art and would wholeheartedly recommend them to others. Their exceptional service, attention to detail, and high-quality furniture make them a standout choice. If you're looking for a reliable and trustworthy furniture provider, Soni Art is the way to go.
We bought a bed from Soni Art four months ago, and we are extremely satisfied with our purchase. The bed is made of high-quality Cirava sheesham wood, and the built quality is excellent.The delivery process was convenient, and the bed was delivered right to our home in Kolhapur. It was easy to assemble on our own without any hassle. The finishing of the bed is really nice, and it adds a touch of elegance to our home.We have been using the bed for the past four months, and everything is perfect. It has proven to be durable and reliable. We are truly happy with how it looks in our bedroom.Although I cannot share a photo of our bedroom, I assure you that the bed enhances the overall aesthetics of the space.If you're considering buying furniture from Soni Art, we highly recommend it. The quality, service, and overall experience have been exceptional.
dalpat singh
12. June, 2023.
It has been two months since we have received this beautiful hand carved rustic finish wall panel from Soni Art. We have seen this on their website and immeditley liked it. Order rightaway. We have received this pannel in 15 days at our home in Udaipur. This piece looks amazing at our living room. With minor difference between the image on website and what we have received but that should be considered since they are making all these piece each by hand. So I am happy with my purchase will definitely by in future from them.
Niraj Vaishnav
11. June, 2023.
Best quality furniture in jodhpur…..
kishana ram
11. June, 2023.
We ahve bought a coffee table which has rattan / cane in the front of drawer. This table is on their website which we have really liked the color and design. We have placed the order on their website directly. We have recieved the table in exact 21 days which was precise as they claim 3 weeks delivery. Received the table in good packaging after opening it was nice. All things from finising of the table to the making everything is smooth. We are really happy with our shopping with Soni Art. Will definietly buy in future from them for sure. Thank you team Soni Art for making this beautiful furniture for us.
Mgr. Mariana Oganesjan
6. June, 2023.
Beautiful design, work. Thank you Ramesh 😇🙏🏼As customer from Slovakia, we initially had reservations about ordering furniture from a distant location. However, our doubts were quickly dispelled once we began communicating with Mr. Ramesh from Soni Art. Upon exploring their website, Instagram page, and reading their positive Google reviews, we became confident that Soni Art was the perfect choice for our furniture needs.Throughout the entire process, from discussing designs to customizations such as dimensions, fabric selection, wood type, and color, the Soni Art team was attentive and accommodating. We placed our order with high expectations.We were pleasantly surprised by the level of communication and updates provided by Soni Art. They kept us informed about the progress of our furniture, and once the pieces were completed, they efficiently arranged the shipment through a reliable company (shipping costs were borne by us).Upon receiving our order, we were delighted to find our furniture thoughtfully packaged in sturdy, corrugated boxes and secured on wooden pallets. The attention to detail in the packaging ensured that our cherished pieces arrived in pristine condition.We extend our heartfelt gratitude to the Soni Art team for transforming our dream furniture into a reality. The exceptional service and exceptional product have left us thoroughly impressed. Thank you for making our experience memorable and for delivering beyond our expectations.