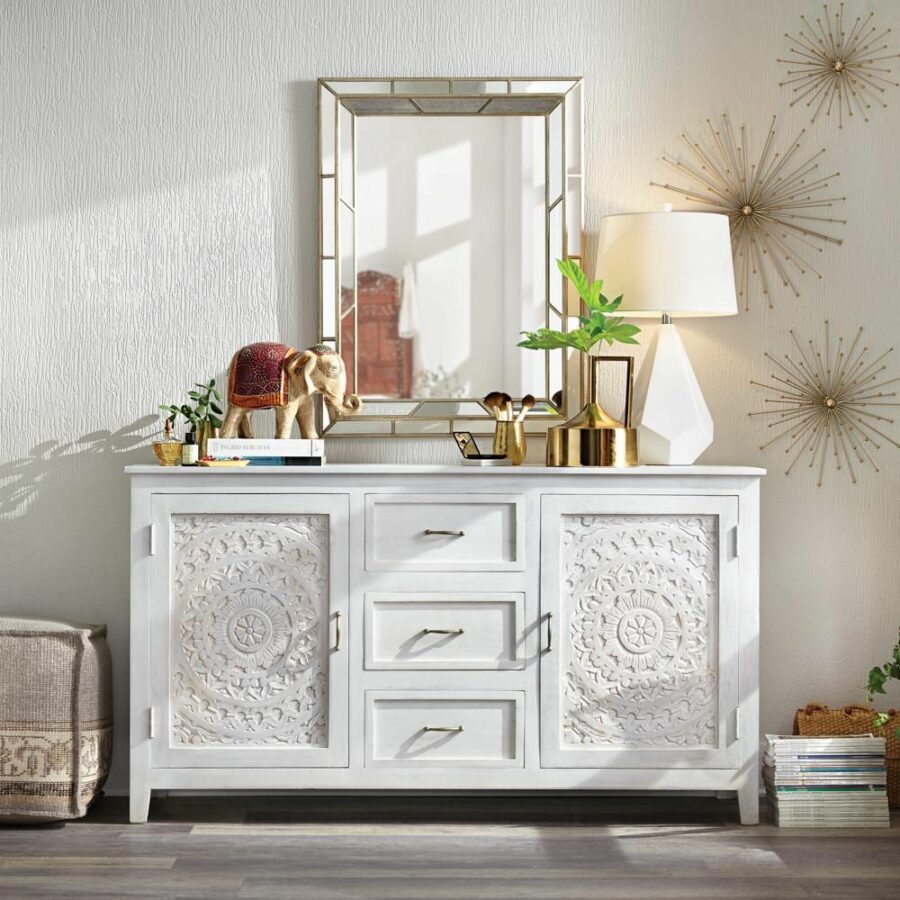 At Soni Art, we strive for the same passion, the same zeal and the same hunger for creativity. Established as a Sole Proprietorship firm in the year 2018, we "Soni Art Exports " are a leading Manufacture of a wide range of Wooden and Iron Handcrafted furniture.
At Soni Art, we strive for the same passion, the same zeal and the same hunger for creativity. Shaped by masterminds who have seen the decor industry grow from the roots of paraphernalia to a wild flourishing business it is today, Soni Art's intent can be summarised in extensive madness for diversity and tastefulness.
Bhajan lal Bishnoi
6. March, 2023.
Very good exsilent
sumaira khan
6. March, 2023.
We ordered customised Poster Bed from Soni Arts .. ..It turned out really beautiful and very classy everyone liked it.Their craftsmanship is really appreciable. Ramesh ji was very helpful during the whole process right from ordering till delivery and installation, very prompt in services and resolving all the queries..special thanks to him …Over all experience was amazing.. reasonable price ,quality of furniture, finishing ,polish everything is 10/10 ..Thank you so much for making the order even more beautiful than what I wished for 👍 Really content with the furniture …will definitely order some more in future..
We were convinced after reading the Google reviews. But still was sceptical about ordering online. How will they delivery in Chennai and transportation damage and all. But after talking with Mr. Ramesh about designs, dimensions and polish choices we were totally convinced to order. We have ordered 2 beds with storage, one study table and chair, one 8 seater dining table, lunger sofa and other smaller items. Quality was as expected. Though it was bit late but since the order was large and customized it was expect. Good logistics and after support. Highly recommended. Thanks Soni Art!
Divya Ramesh
4. March, 2023.
I had ordered a sheesham king size cot and a customised hand painted cabinet for Pooja. The quality of the products and design was as expected. Their commitment and support to fix up any damages/scratches in transit post delivery is commendable! Would definitely recommend soni Arts!
Ournest Hotel
28. February, 2023.
Great collection, we had a very smooth experience with Soni art , we have ordered the furniture and in no less than 15days we got the delivery in Hyderabad. Thank you so much ..
praveen k
23. February, 2023.
I had an antique style Sheesham wood bed custom made by Soni Arts. Ramesh ji is the point of contact. He is a gentleman and delivers best possible quality at reasonable prices. I got the bed installed today and it is very beautiful to look at. Ramesh ji brought my vision to reality and I am very happy with my purchase. I would gladly recommend Soni Arts to anyone who wants to purchase quality furniture. Their craftsmanship, quality control, finishing and logistics are top notch.