WESTERN CUSTOM FURNITURE "MADE TO ORDER OF YOUR CHOICE"
Soni Art is the best furniture store offering selective & uniquely designed, prepared to arrange furniture with the "Best cost and Quality" principles on the lookout. We make and modify furniture to suit and enhance your home and way of life. Soni Art is the leader in quality home furnishings.
Let's Design Your Dream Home Furnishings
You just need to share your dream design idea & our experts will get back with the best possible custom made furniture suggestions online
Have an Idea?
Share your furniture's design via sketch, photo, or URL, and tell us of any additional/specific customization requests including the size.

Time to Design
It's time for our designers to turn your sketch and vision into reality by adding the best customization to it.
In Process
Once confirmation is received, our team will now manufacture your customized dream furniture and turn your dream into reality.

Dream come True
You can now see your dream furniture turned into real furniture. We will now pack and ship your custom-made furniture.
SHARE YOUR CUSTOM DESIGNS SMARTLY
WE PERSONALISE YOUR FURNITURE COMPLETELY!
QualityWood
Looking for the best quality wood? We provide you best quality wood for your furniture desires.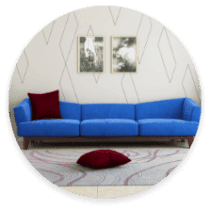 Designs
We turn your home more beautiful by the customized designs we make.
Finish
The right finishing gives elegant and alluring look and feel to your furniture design.
Fabric
Make your living space more a place you dream of! Select amazing fabric designs and materials
WE PERSONALISE YOUR FURNITURE COMPLETELY!