The bedroom is one of the personal spaces within a home. Hence, we all make sure that it strikes a balance between being both chic and tranquil. A bedroom is a space where we relax after a long, exhausting day, so it is essential o decorate the space pleasantly to make ourselves comfortable and healthy sleeping. In the recent world, we are mostly busy with life, so, we need a bedroom that will reduce our stress and help us relax.
Now, talking bout modern bedroom decor, we need to keep certain things in mind. We often use the word "modern" and "contemporary" interchangeably but they have different meanings from each other. Modern is a specific style and contemporary refers to the ever-changing, fluid concept of the current time. The modern interior decor is the current hotcake in the market.
The brand Soniart manufactures and sells ultra-modern furniture which is perfect for a modern bedroom. The company has a wide variety of options for you to choose from. Choose your design and material to suit your taste. There are different sizes available, so you can choose the right one that suits your needs. You can customize your bedroom interior with additional features like a built-in TV unit or an almirah design or cupboard.
What are the classifications of modern interior ideas;
There are many variations of modern interior styles such as Scandanavian modern interior, mid-century-modern interior, and traditional modern interior. Apart from that, there are the modern color scheme, usage of neutral materials, light furnishing designs, and so on are also part of modern design. The modern color scheme has blue, yellow, and red accents whereas the primary palette tends to be neutral. But with time the usage of bright cherry accents has become more common. The neutral materials particularly embrace wood as the primary medium. Although plastics and chrome have always been integral materials, wood is the classier choice. The brand Soniart furniture focuses on wooden furniture but also makes furniture of other materials.
We offer a variety of options for you to customize your home. From mirrors to custom-made furniture, we have what you need to make your space as unique as you are. We also offer a wide range of wall art, wall carved panels, frames, clocks, TV units,s and room dividers that can be tailored precisely to your needs. We pride ourselves on our ability to take your ideas, no matter how big or small, and bring them to life practically and beautifully. Our hard-carved frames are an elegant addition to any room. Our mirrors can be found in many different designs, from rustic to modern. We also offer wall arts that will help add a pop of color to any space.
Some modern bedroom interior ideas that will perfectly fit all the mentioned furniture;
As we discussed previously the bedroom is the space where we get to relax and reduce our life and work stress after a long hectic day. Therefore it is necessary that we get the best accessories and designs that will soothe our minds and help us have healthy sleep. The modern ideas involve ultra sleek, minimalist style bedrooms to rustic decor schemes with a hint of Scandinavian style. There are colorful options that suit everyone's choice individually. Let us find some creative headboard designs that will a wonderful for your bedroom.
You can try giving your bedroom a platform with a Sheesham wood bed. The wooden bed has become a highly desired piece of modern bedroom furniture. Our company makes the Tirana solid Sheesham wood bed with a great design and finish that will make your bedroom look stunning. You can add an eye-catching fabric to the bed to make it more captivating.
Choose the color that will let you have a restful night's sleep. You can consider some serene, soothing colors like blue, or light baby pink. In addition, a Diamond provincial Sheesham wood bed will make your bedroom look even better and will ensure the most comfortable sleep that you'll ever have.
With the Jupiter wardrobe made by this company, you can add a touch of sophistication to your bedroom. A Glassgow solid mango wood hand-carved bed along with the wardrobe will steal your heart for sure. Just make sure you don't feel clumsy with too much furniture or maybe that's what your choice is.
If you want your bedroom to look bigger, you can try out the mini loft flair. This will also work like storage. Do not forget to add the Xenia bedside table. It's super classy and will enhance the beauty of your bedroom.
Treat your beloved to the finest in home furniture with this attractive and classic Sheesham wood bed. Beautifully crafted from high-quality Indian Rosewood AKA Sheesham wood, it's sure to make a lasting impression on your guests and family. Tirana solid Sheesham wood bed is a beautiful and high-quality product. If planning to buy a bed online, it has a modern design and looks attractive in any bedroom.
The Wooden cot king-size bed has beautiful grains of Sheesham wood all over it, a smooth finish, sturdy wooden box bed design construction, and stylish design. The height of the headboard of the bed is as per the industry standards which suits your sleeping needs. In addition to the beautiful wood, this bed features a superior quality strong structure that provides your child with a more comfortable mattress experience.
#2: Diamond Provincial Sheesham Solid Wood Bed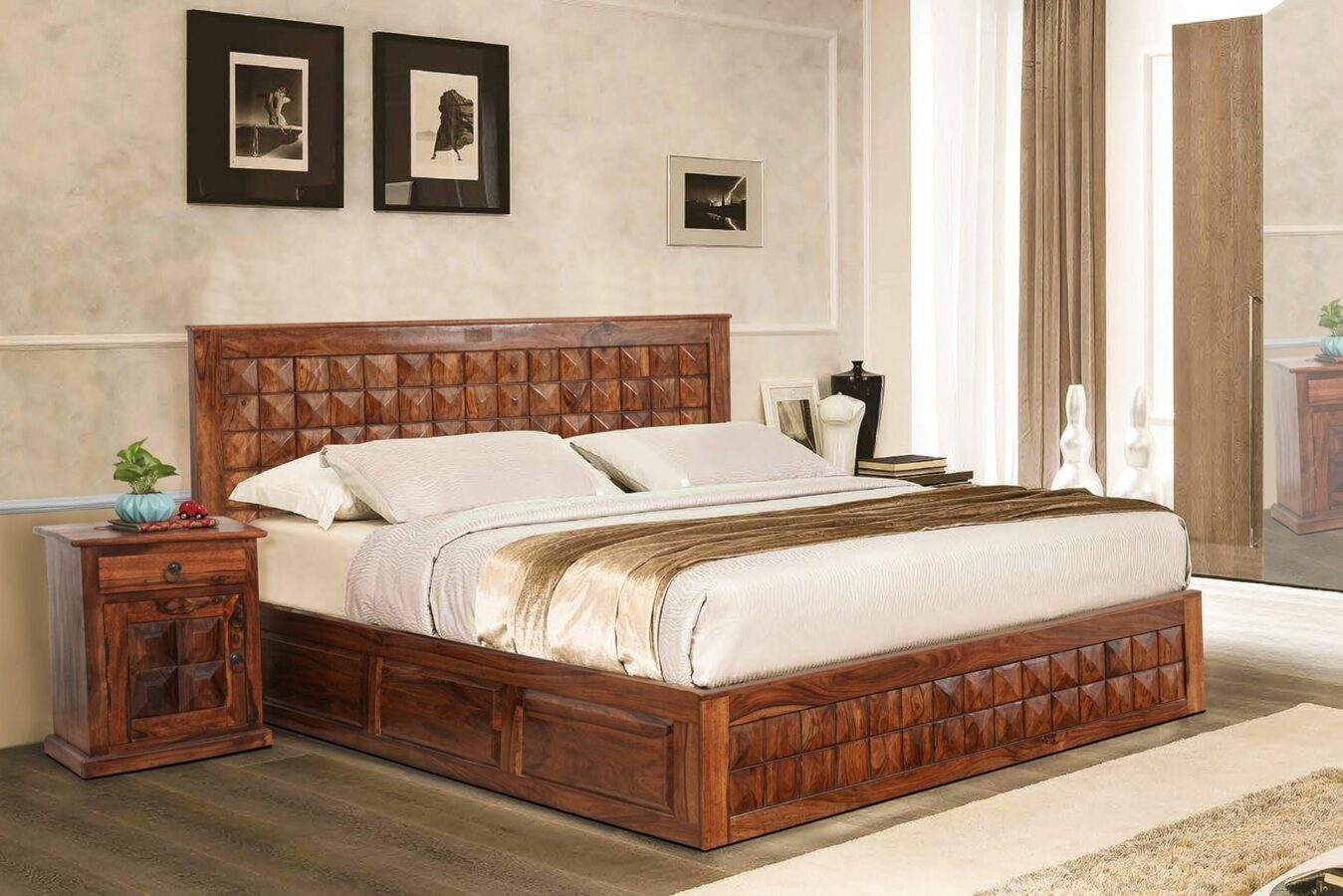 Our Provincial Sheesham Wood Bed features a modern cum traditional design that will feel at home in any home. In addition, the solid wood construction means this bed will last for years to come. This provincial Sheesham wood bed is beautiful, solid, and sturdy. It offers a premium contemporary look with beautiful diamonds carved on the headboard and footboard.
If you are looking to buy a solid Sheesham wood or teak wood bed online for sizes such as king, queen, master bed, or American king size bed with a traditional style Wooden cot, this bed might be what you are looking for. The provincial-style bed has carvings on the headboard and footboard that remind you of a time period gone by when life was simpler. This beautiful bed is made out of Sheesham wood, which is a premium hardwood used to make home furniture for years, and is durable for use in modern bedrooms.
Looking for a quality, affordable Wooden cot for yourself? Then look no further, because we have the perfect one for you! It's called the Checks Brown Color Solid Wood Bed – Soni Art. This stylish piece of furniture is available in king size, queen size, and single sizes so you can get one according to your room size.
It comes with free delivery across all major cities—what more could you possibly want from a buying bed online?! This masterpiece was created with a gorgeous solid Sheesham bed that's made out of the most beautiful things in nature: wood and earth. This bed is both environmentally friendly and affordable, having a wooden box bed design– setting you up for pure peace of mind.
The Glasgow Solid Mango Wood Hand Carved Bed is hand carved from solid mango wood, allowing it to last through generations. This bed will complement any bedroom and home decor style made by artisans whose craftsmanship is unparalleled. The Glasgow Solid Mango Wood Hand Carved Bed is a beautiful wooden box bed design bedroom set available in king, queen, and double sizes. The rich finish and unique hand-carved details make this bed an amazing addition to any bedroom or guest room. Hearst design, wood texture, sleek and timeless appearance. Solid mango wood construction is durable and resistant to warping or splitting.
Jupiter Wardrobe is a sleek, stylish piece of furniture that can be used as a cupboard in any room of your home. The Jupiter Wardrobe is a modern and versatile piece of furniture that will help you organize your clothes in style! It's made from solid Sheesham wood (Rosewood) and not veneer and has an ample amount of storage space for all your clothing items and comes in a variety of colors to complement any decor.
Our Jupiter Wardrobe is a stylish piece of furniture that will provide much-needed storage space in any bedroom. Built with an elegant design and made entirely from solid wood, the Jupiter Wardrobe will complement any existindecoror and add instant style to your home furniture.
#2: Dark Walnut Sheesham Wardrobe With 2 Door & 2 Drawer 37x20x72 inch
Looking for a new cupboard that is as functional as it is stylish? You will find everything you need in our wardrobe ran… This wardrobe comes with 2 doors and 2 drawers, providing ample storage space for an array of items that are both contemporary and functional. The dark walnut Sheesham finish of the furniture gives it a modern look that will blend seamlessly with any interior. For peace of mind, you can be sure that this product has been built from high-quality Sheesham wood—these cupboards will stand up well over time. This wardrobe is made from solid Sheesham wood that will last you for years to come.
Trendy Desks To Enhance Mini-Loft Flair
Our side tables are made of wood, metal, and cane and designed traditional, modern, rustic, hand-carved, or rural. We have a variety of sizes to choose from. If you want something that can be customized, we can do that too! It's the perfect size for your home. Our dressers come in a variety of styles and materials. Some are multi-purpose—they can be used as bedside tables, bench tables, dressing tables, and more!
The Viena BedSide Table 26 inches is the perfect addition to any bedroom. The table comes with a sleek and stylish design that will add decor value to any room. It is also affordable making it a very affordable option for people looking to buy furniture online. The Viena Bedside Table 26 is the most sophisticated bedside Dressing table yet. Beautifully finished with a distressed white matt finish and beautiful carving on the two doors make this piece exquisite. This super-stylish side dressing table or TV unit has a beautiful natural feel without compromising functionality.
The Xenia Wooden Bedside Table is an ideal addition to any home. This piece is crafted from natural materials and features a drawer, making it perfect for storing books or magazines, or TV units, as well as knick-knacks that you want to display in your bedroom. It comes in brown finishes so that suits your home decor best. Its sleek design makes it perfect for any bedroom setting. If you're looking for an inexpensive but beautiful option for your bedroom, this could be the perfect choice for you! The Xenia bedside table is a beautiful piece of furniture that provides you with extra storage space but keeps a modern and stylish look that can fit in any home decor.
#3: Frexo Wooden White Bedside Table Nightstand 16″x18″ Set of Two
Looking for a bedside dressing table that has a modern and stylish look? Look no further than the Frexo Wooden White Bedside Table Nightstand 16×18 Set of Two! This bedside Dressing table has a drawer for storage, is made from mango wood for a natural and rustic look due to which it is lightweight along with durable and affordable, and it comes in white so it's easy to match with other furniture pieces in your room which will go well with the décor of any bedroom. It has a drawer to store your items and a polished wooden knob to make opening them easy. It is a modern-looking bedside dressing table that is sure to complement any stylish household.
#1: Alto Hand Carved Wooden Sideboard
Looking for a beautiful sideboard to store your belongings? Alto is a perfect choice, with its stunning and timeless design that will look great in any home. Wooden furniture has been used by many cultures across the world to create practical yet beautiful pieces of furniture. Our craftsmen in India hand carve each piece from quality mango wood to create a piece that will be appreciated by generations to come.
Meaning it has a beautiful look that complements any home décor. It is also ideal for storing important belongings such as family photographs, books, wine glasses, decorations, and more. What's more, we offer free shipping across all major cities in India. Our goal is to bring you high-quality products while keeping the prices low by offering them directly to you!
#2: Rippi Mango Wooden Gray Console Table
Discover the Rippi Mango Wooden Gray Console Table—our newest addition to our furniture collection. The sleek lines, unique materials, and clean styling all come together to create something truly special. Made from mango wood, this table has an elegant look and feel. The built-in metal legs allow it to serve as a console table for smaller spaces without losing any visual impact. While beautiful by itself, this piece works exceptionally well alongside our other parts. Crafted from mango wood, with a gray finish, it features open shelving that's perfect for displaying décor while still allowing air to flow freely through your living room or den.